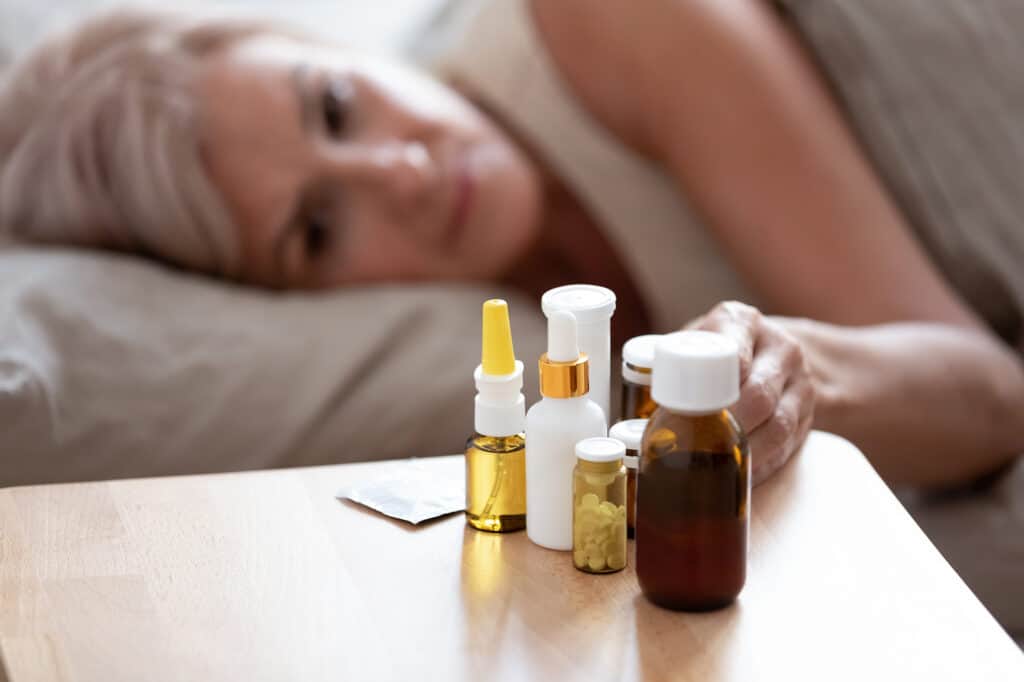 Hormone replacement therapy (HRT) is an ideal therapeutic solution for most women experiencing symptoms of menopause. But after the legalization of hemp and cannabis, it's now common to get women who also use CBD legal therapies to combat menopause health challenges. It's common for women to choose HRT, and use CBD as an adjunct therapy. But is it effective in solving menopausal problems?
HRT is an effective way of modulating hormonal changes that bring about menopausal health challenges such as mood changes, and sleep disturbances. But some women are allergic to estrogen and progesterone, and they'd rather use cannabidiol therapy. The therapy provides a safe alternative to HRT, which is at times linked to increased breast cancer risk.
Read on to learn why you may need to start taking CBD oils and other CBD products as your main or complementary therapy to manage symptoms of menopause.
What is CBD Oil?
Cannabidiol is part of the cannabinoid compounds found in the hemp and cannabis plant, but it has no psychoactive impact like THC.  Clinical studies on the possible medicinal use of the compound have focused on health conditions relating to movement disorders, pain, and cognition. Cannabidiol oil may solve some health challenges during menopause.
Studies show that CBD treatment may ease menopause symptoms, including aches, and solve mood change, temperature regulation, and sleep disturbance problems. However, further research is needed to ascertain its effectiveness.
What is Hormone Replacement Therapy (HRT)?
HRT is a medical therapy that helps ease menopausal symptoms by increasing the level of hormones that decline as women age. HRT may relieve problems that include diminished sex drive, mood changes, body weight changes, and night sweats.
The menopause symptoms may die away with time. But their experience is often unpleasant, and using HRT can ease the problems. HRT may also prevent bone density loss. The bone density loss is accompanied by some bone mass loss, which weakens the bones of women during and after menopause.
Many pre- and menopausal women can use HRT. Moreover, the therapy may not be ideal when such postmenopausal women have estrogen and progesterone allergies. It is not ideal for women with a history of ovarian cancer, those with untreated hypertension, or women with rare forms of blood clots.
Does CBD Aid in Menopause Symptoms?
Studies show that taking cannabidiol may help in solving some menopause-related problems. It is also believed that CBD products with a combination of other cannabinoids present a better therapeutic effect than cannabidiol isolates since they ease symptoms of menopause faster.
The combo creates what is termed as the "entourage effect," which you can combine with lifestyle changes for an improved synergistic impact. Researchers have found that the use of full-spectrum cannabinoids, flavonoids, and terpenes in the hemp plant increases the synergistic working of these compounds in easing various menopause symptoms.
Furthermore, leaving traces of THC in the products makes them a little more potent in addressing issues such as sleep disturbance and anxiety. Menopause is a transition period that marks the end of menstruation, and it can lead to a wide array of symptoms that vary among women.
In menopause, women experience a decline in estrogen, and this decline leads to different symptoms of menopause in the female reproductive system such as vaginal dryness and hormonal changes.
The Contraindications of HRT
HRT therapy is the commonly recommended option for treating menopausal symptoms. But the therapy can be contraindicated for you if you have some history of ovarian, breast, and womb cancer.
Notably, the use of estrogen therapy and HRT elevate the risk of breast, ovarian, and womb cancer. It's in such situations that it becomes ideal to use the alternative cannabidiol therapy with fewer risks.
Studies About CBD Use During Menopause
A 2019 research showed that the endocannabinoid system may have a marked impact on the female reproductive processes and tissues. The endocannabinoid system may be capable of playing a significant role in regulating temperature, memory, pain, sleep, mood, and the immune system.
As such, high-quality CBD combined with other forms of therapy may help ease menopause symptoms effectively. A 2018 study revealed that high cannabidiol and low THC products helped in easing depression and anxiety symptoms.
The clinical data from the study revealed that high cannabidiol and THC levels were also found to be effective in reducing stress. Female subjects in the study experienced a greater decline in anxiety than their male counterparts.
Another study revealed that taking CBD can reduce inflammation, joint pain, and aching. The pain reduction occurs when other trace cannabinoids such as THC create the "entourage effect" by working on the CB1 and CB2 receptors.
CBD vs HRT: Effects for Breast Cancer
The two types of hormonal therapy are known to increase the risk of breast cancer. The risk of getting cancer increases by at least 10% when a woman in menopause uses HRT. Moreover, using combination HRT increases the risk compared to estrogen therapy.
Studies also show that the inclusion of progestin hormones in HRT may also increase the risk of cancer and its chances of spreading to other organs. However, the exact effect of hormones on cancerous cells is unknown.
The Impact of CBD on Estrogen Hormone Levels
In contrast, CBD therapy for women in menopause may reduce the risk of breast cancer by suppressing the production of estrogen. CBD achieves this inhibition by inhibiting the aromatase enzyme that is responsible for estrogen production from testosterone.
Such aromatase inhibitors are ideal for women with breast cancer or in menopause. CBD therapy may also reduce estrogen by promoting estrogen breakdown. This shows that CBD has an anti-estrogenic effect because it may lower estrogen levels, but more research is required to establish a clear causal link.
CBD and the Endocannabinoid System (ECS)
CBD works via the endocannabinoid system, which is an advanced signaling system whose sensitive cannabinoid receptors are found all over the body. Endocannabinoids bind to the receptors to signal the need for action from the ECS.
The common endocannabinoid system receptors include the CB2 and CB1 receptors found in the peripheral and central nervous systems, respectively. Endocannabinoids bind to any of the receptors, and the effect of the binding depends on where the receptor is located.
For instance, endocannabinoids that target CB1 cell receptors in a spinal nerve may ease neck pain. Other endocannabinoids may link to the CB2 cannabinoid receptor in the immune system and signal the sensation of inflammation.
Cannabinoids such as CBD don't interact with the endocannabinoid system, but the THC that is often found in CBD extracts binds to both cannabinoid receptors and has various strong effects that are part of the "entourage effect."
Unlike THC, the manner in which CBD interacts with the ECS is least known and researchers speculate that CBD operates by binding to receptors that are yet to be discovered. But while its mechanisms of working are under debate, studies show that even though Cannabidiol is not part of the conventional treatments, it can ease menopausal symptoms in women.
Its positive effects can ease joint pain, improve bone density, and reduce inflammation and menstrual cramps. With a perfect ECS, cannabidiol may be a promising relief for women in menopause. However, its effectiveness may be low if the patients have a poorly functioning endocannabinoid system and low levels of certain endocannabinoids.
CBD Therapy to Reduce Menopausal Symptoms
If you don't want to use HRT because of the fear of breast cancer, allergies, or other problems that lead to contraindications, then choose cannabidiol therapy to ease adverse symptoms. In order to increase its effectiveness in dealing with menopausal symptoms, it is important to combine CBD therapy and other lifestyle measures.
The lifestyle measures include:
Exercise can better sleep and reduce night sweating and sleep disturbances. Physical activities can reduce anxiety and boost your mood.
If you have trouble sleeping keep cool at night, wear light clothing, and sleep in a well-ventilated bedroom whenever you experience night sweats.
If you're experiencing vaginal dryness Doctor Melanie Bone from Florida recommends the use of some topical CBD with a combo of cannabis and hormones.
Avoid alcohol, and caffeine because these are possible triggers of hot flashes.
Eat healthy food to avoid excess body weight gain.
Avoid or quit smoking to reduce the risk of getting other health conditions including cancer and stroke.
Find some social activities to engage in to reduce anxiety and avoid getting mood swings, which are part of the stress response system.
Engaging in all these lifestyle recommendations can help women in menopause to relieve the symptoms and improve their quality of life.
7 FAQs About CBD vs HRT
There are various questions that any CBD user needs to answer before they can try to use CBD or other cannabidiol products as the main or complementary therapy for menopause-related health challenges. These questions relate to dosing and the safety and effectiveness of CBD as a therapy for women in menopause.
Here are seven FAQs pertaining to CBD vs HRT:
1.Can CBD Oil Replace HRT?
No, Cannabidiol therapy isn't an outright declared replacement for hormone replacement therapy. Ideally, it's recommendable to use HRT if you don't experience allergic reactions from progesterone and estrogen.
But if you're allergic to combination HRT or estrogen HRT, then it would be ideal for you to choose the use of hemp oil extracts either as a complementary therapy or alternative therapy.
2.Does CBD Oil Raise Estrogen Levels?
Studies on CBD and estrogen hormone levels show that cannabidiol may suppress the production of estrogen by inhibiting the aromatase enzyme, which catalyzes the formation of estrogen.
The aromatase inhibitor is often used to reduce levels of estrogen in women with breast cancer and during the post-menopausal period.
3.Does CBD Help Hormones?
Hormonal balance is essential for proper body functioning. All humans have the endocannabinoid system that works to maintain a person's body in balance. It is widely believed that the system also regulates immune function and pain. It is connected to the endocrine system, and it gets stimulated by cannabidiol.
As such, it can influence the functioning of major hormones, including melatonin, cortisol, and insulin. It can therefore be used as an alternative treatment for hormonal imbalances that affect a person's health and wellbeing.
4.Can CBD Oil Help with Menopause Hot Flashes?
Hot flashes are often well treated by using hormone therapy, but the common triggers of hot flashes may be effectively treated by the use of cannabinoids.
Anxiety and stress may lead to sweating and hot flashes. Triggers such as anxiety and stress can get alleviated by the use of broad-spectrum cannabidiol products.
What CBD Products are Best for Women in Menopause?
Cannabidiol products may be prepared into sublingual oil concentrates, chewable gummies, tinctures, cookies, and topicals. Sublingual oil drops are placed under the tongue and such placement improves absorption. Most CBD users prefer broad-spectrum cannabidiol instead of CBD isolates. CBD isolates are made from pure cannabidiol and have a high level of CBD.
The full-spectrum cannabidiol may be more ideal for use among women in menopause because the many compounds in it give the "entourage effect," that delivers more therapeutic power that could ease menopause symptoms.
What is the Proper Dosing for CBD during Menopause?
When administered under proper control, cannabidiol oils don't present any toxicity even at slightly high doses. CBD also present no diet or physiological changes at higher doses, neither does it affect blood pressure and body temperature.
For proper and safe use, you should start with a baseline dosage, and make gradual dose increments. You can do this till the desired effect is achieved. In general, even though the FAQs try to cover most of the issues facing CBD users, one must seek professional advice before consuming the products.
7.Nonprescription CBD Products
The use of hemp products for medicinal purposes has increased significantly since the enactment of the 2018 Farm Bill in state laws. At present, many outlets are selling cannabidiol oil extracts and other CBD oil products that include tinctures, cookies, and gummies.
Here is a brief review of the considerations to make when buying CBD oil products:
Source of Hemp
Go for CBD products that are organically grown and have no traces of toxins from agrochemicals. This means users should know their hemp source before settling for any brand.
Potency
Buyers should also learn about the CBD content in the products. CBD isolate products have a higher concentration and potency than full-spectrum CBD products.
Ingredients
You should also check the product label to know the active ingredient in the CBD product. Some CBD extracts have other ingredients, which include glycerin, glycol, and propylene. You should thus check for such ingredients and avoid buying CBD with contents that can be allergic and harmful.
Certification and Lab Reports
 It's advisable to check certification and laboratory reports to make sure the cannabidiol oil is FDA approved and manufactured by a certified firm, and thus free from contaminants.
Cost
Buyers should also check the prices of CBD in the retail market. The cost of different brands may differ because of shipping costs and brand value. As such, look for affordable, high potency CBD, but never compromise on the quality.
As seen above, getting the best CBD product is not easy. It is therefore important to research widely by comparing products or even seeking advice from medical professionals to find the most ideal option.
Buying the Best Hemp-Derived CBD Products?
Buying the right CBD oil products with no harmful ingredients and the right potency will determine whether you can get the best CBD therapy.
Hemplily provides a wide array of CBD-rich oils that you can use during peri- and menopause to combat the challenges that come with with this change of life. Contact us to learn more about CBD and our services.