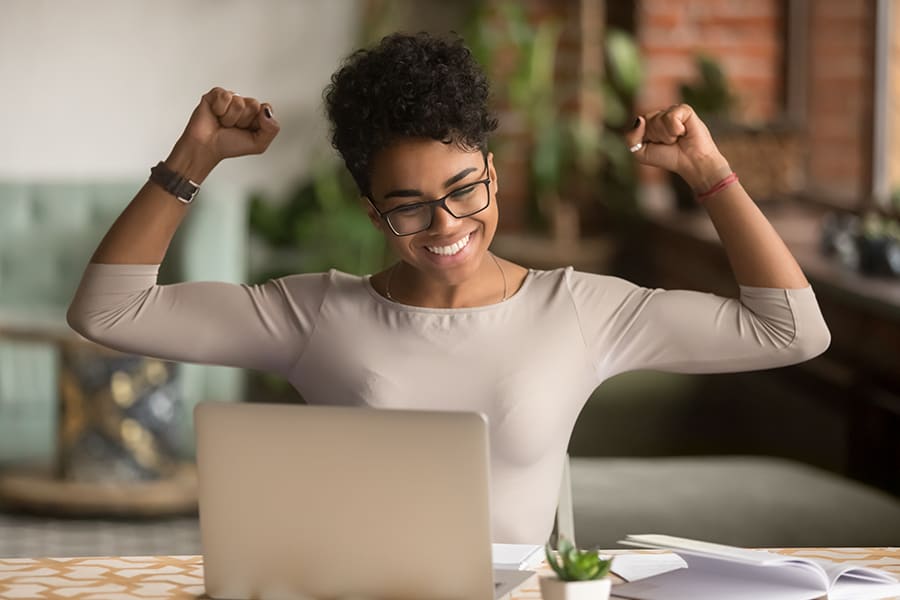 To better understand the vital functions of estradiol (E2/estrogen) and the endocannabinoid system, it's important to understand that every human being and animal alive on planet earth has an endocannabinoid system. These systems go far back into our history with some scientific discoveries dating back to about 600 million years ago in our evolution.
Cannabinoid receptors CB1 and CB2 and estrogen production go hand-in-hand with hormone imbalance as it also impacts estrogen levels and major hormones. Selective estrogen receptor modulators are responsible for key symptoms such as anxiety and stress; therefore, CBD and estrogen receptors may provide relief for hormonal imbalances for many women seeking alternative treatment solutions.
To discover more about the cannabinoid receptor and endocrine system and how healthy premenopausal women may benefit from the use of CBD, keep reading this comprehensive guide.
What Are Cannabinoid Receptors?
Since the estrogen system is typically assigned to balance out three key systems in the human body: the nervous system, immune system, and endocrine system, cannabinoid receptors CB1 and CB2 work in unison with inflammatory response agents such as cytokines and microglia. They also work with neurotransmitters like dopamine, serotonin, and GABA.
Cannabidiol CBD: CB1 & CB2 Receptors
As mentioned above, the endocannabinoid system is comprised of two receptors known in the scientific field as CB1 and CB2 receptors. Both cannabinoid receptors are located in various areas of the body and affect various biological functions and processes.
The CB1 cannabinoid receptor is primarily located in the central nervous system, the brain, and several other areas of the body. Moreover, the CB2 receptor is commonly found in the body on cells that are associated with our immune systems.
Cannabidiol (CBD) is the main compound found in hemp plants and is known for interacting with CB1 and CB2 receptors for several therapeutic effects still being studied.
Research, where CBD is currently under study by independent scientific groups for hormone imbalances, includes the following but is not limited to:
Female reproductive system and immune cells
Lower circulating estrogen levels
Hormone levels and menopause symptoms
Hormonal balance and hormone imbalances
Anxiety and depression as well as mood swings
Growth hormone levels and stress hormone
Natural or synthetic origin of CB1/CB2 receptors
Origins of endogenous cannabinoids constitute
Other areas of study include the gonadotropin-releasing hormone, adrenal glands, luteinizing hormone, fat tissue in the endocrine glands, and blood pressure readings. Adult female mice and menopausal women both share the same particular hormone that works with the cannabidiol inverse agonist CB1 and CB2 receptors designed to serve as chemical messengers for the estrogen system.
The Endocrine System
Unlike the nervous and immune systems, the endocrine system is both metabolic and steroidal (estrogen). When the body experiences a hormonal imbalance with aromatase inhibitors, it could add to the discomfort of a menstrual cycle, weight gain, bone growth, sex hormones, and several other health conditions.
While there are several areas in the body where hormones are made, there are some major glands contained in the endocrine system that holds a higher value for healthy hormone balance.
These include:
Pituitary gland
Hypothalamus
Thyroid
Parathyroids
Pituitary
Pineal body
Adrenals
Ovaries
Testes
The largest endocrine gland in the body is the pancreas and is essential for making several hormones, including insulin. Proper insulin is critical and aids glucose (blood sugar levels) via cells in the body as well as degrading endocannabinoid anandamide for estrogen dominance.
Hormone Imbalance
CBD has shown promise to aid with the influence of hormone imbalance and major hormones; however, the Food & Drug Administration (FDA) still lacks approval and needs further research before it can be considered as a treatment solution for the consumer marketplace.
The estrogen system and the physiological functions of the peripheral tissues that stop producing hormones may be influenced by a potent inhibitor such as CBD extracted from the hemp and cannabis sativa plant to increase the endocrine glands produces.
The endocannabinoid system functions to influence major hormones and follicle-stimulating hormone levels to correct hormone imbalances. Certain animal models have shown the health benefits of CBD that regulate stress and stress response in cancer cells and immune function, making CBD oil a favorite among women with hormonal imbalances.
CBD Effects on Breast Cancer
With the recent worldwide legalization of CBD and THC products, there have many studies conducted on the effects of CBD on breast cancer cells. Surprisingly enough, breast cancer affects mostly women in their early 30s, and at times, comes with sad news for those who catch it too late.
Although there are some countries that claim medical cannabis and CBD hemp are recreational drugs, many others like the US and Canada include reputable researchers, organizations, and scientists reporting CBD may work as a breast cancer treatment.
CBD for Breast Cancer: Uses and Benefits
The occurrences of breast cancer in both men and women have been pretty common these days. Almost 70% to 80% of breast cancers express the estrogen receptors and therefore they are HR-positive or estrogen receptor-positive while 65% of breast cancers are progesterone receptor-positive.
Typically, breast cancer is the stage where patients develop a small lump made of tumor tissues in their breasts. Speaking of the treatments or medical help, the use of CBD is supposed to help as per research.
Cannabinoids usually encompass organic molecules that share similarities in chemical structures and protein binding profiles. In recent research, CBD and tetrahydrocannabinol have been the primary focus and it shows that CBD may help reduce the size of the tumor and possibly eradicate it.
The Uses of CBD
CBD is a traditional and natural cancer treatment method. Although it has garnered tremendous attention in recent studies, the use of CBD is traced back to 500 BC. CBD products beyond the oil, tinctures, capsules, and sprays could be used orally to yield its benefits.
It exerts anti-proliferative effects on breast cancerous cells through its wide array of mechanisms including autophagy, apoptosis, cell cycle arrest, etc. There are recent studies that found the antiproliferative effects on breast cancerous cells are independent of endocannabinoid receptors.
Generally, various cell lines of these breast cancers have been used in order to demonstrate their dose-dependent reaction to CBD including the ER-positive cells, ER-negative cells, and also triple-negative breast cancer cells. The use of even a small dose of CBD induced cell death in ER-negative cells after 24 hours.
This indicates that these breast cancer cell lines are sensitive to the antiproliferative effects of CBD. It has been consistently shown that it generates ROS that inhibits proliferation and further induces cell death. In addition, the use of CBD can inhibit tumor migration, neo-vascularization, and invasion.
The Benefits of Using CBD for Breast Cancer
The demonstrated history of the pro-apoptotic effects and antiproliferative effects of CBD can't be left ignored when it comes to treating breast cancer. Although, its anti-tumor mechanism may vary on tumor types, starting from cell cycle arrest to cell death, to autophagy, or maybe in combination.
The benefits of using CBD for breast cancer include:
CBD Influences the Toxic Levels of ROS
ROS is called the several types of oxygen-containing species that usually are highly reactive and energetically unstable with biomolecules such as nucleic acids, amino acids, and lipids. ROS also includes peroxide, superoxide, hydroxyl free radicals, etc. It oxidizes nucleic acids, lipids, and proteins.
These ROS are often counterbalanced by the antioxidant cells inside. The major antioxidants such as catalase, thioredoxin, peroxiredoxin, and superoxide dismutase help to prevent damage to these biomolecules. However, in cancers, the balance is altered, resulting in tumor progression.
These pro-tumor effects due to the increased ROS generation can lead to enhanced proliferation and genomic instability. Genomic instability plays a pivotal role in the tumor progression process by the mutation's accumulation that evades cell death and promotes uncontrolled growth. CBD seems to be a logical step as a medical treatment for breast cancer.
CBD oil acts as an anti-ROS and decreases the production of these reactive oxygen species. It has been consistently showing its efficacies in mouse models as well as human breast cancerous cells. There are several mechanisms of CBD that impede tumor growth and one of these is by influencing the ROS generation process.
CBD Acts on Endoplasmic Reticulum Stress
The endoplasmic reticulum is a crucial organelle that plays a key role in the folding of calcium, proteins, and other biological processes and also post-translational modification. The accumulation of the misfolded or unfolded proteins triggers the UPR that helps to balance the ER homeostasis.
UPR is a cellular process that halts protein synthesis and refolds the proteins. During tumor development, cancerous cells heavily rely on the UPR pathway for survival. It's because this pathway is considered a hypoxic environment. There's metabolic stress that accompanies tumor growth.
Nevertheless, the pro-apoptotic factors of CBD help to dominate the tumor progression and lead to cell death. It significantly decreases the exosomes' release, and microvesicles' release which aids the growth of tumors, and also causes chemo-resistance.
Further, CBD oil inhibits paclitaxel-induced neurotoxicity by using a cannabinoid receptor system without cognitive impairment. Thus, it may be a viable adjunctive medical treatment for breast cancers.
CBD May Help to Reduce Tumor Expansion
The tissue microenvironment plays a critical role in supporting tumor expansion, establishment, and metastasis. The microenvironment is comprised of tumor-associated macrophages, myeloid-derived cells, dendritic cells, and infiltrated leukocytes.
The crosstalk between the tumor cells and infiltrated cells could easily suppress the natural immune response of the system and create a survival environment for the tumor cells. As a result, the tumor cells start to grow rapidly without any obstructions.
In addition, tumors start to secrete different cytokines actively to attract the other infiltrating cells that in turn help the tumors to bypass the immune system's attack. Cytokines released from the myeloid cells can induce genomic instability by damaging the DNA and altering the genes' expression.
CBD may help to reduce tumor expansion as it has multiple mechanisms to destroy the suitable environment created by cancerous cells in the system. Research shows that the primary tumor size was decreased in CBD-treated mice. Therefore, it may help to change the tumor microenvironment.
Interference With Cell Cycle Progression
CBD may cause a selective and potent inhibition of these breast cancer cell growth. The number of cancer cell lines like the estrogen receptor-positive and ER-negative cell lines remains sensitive to CBD's antiproliferative effects. Therefore, CBD interferes with cell cycle progression.
It causes the cancerous cells to rest in the GO stage. Research showed that in CBD-treated cancer cells, an intricate interplay between autophagy and apoptosis exists. CBD induces cell death and autophagy under oxidative stress conditions.
In the case of both the ER-negative and ER-positive cancerous cells, CBD helps to activate the intrinsic apoptotic pathway by altering the potential of the mitochondrial membrane and releasing the cytochrome C from the mitochondria.
Although, studies regarding the breast cancer cell lines and the animal models showed the potency of CBD in dealing with the cell cycle progression. Minor CB's in the CBD extract may contribute to this anti-cancer activity.
CBD's Influence On Estrogen
Estrogen helps to mediate the transcription of the target genes that regulates cell growth. The process of transcription starts right after the binding of these ER complexes to the ER response elements in the DNA. Nevertheless, estrogen contributes to breast cancer development including progression.
It has been noticed that various types of breast cancers are usually affected by estrogen and progesterone. It happens because these breast cancerous cells have protein receptors attached to progesterone and estrogen that help in tumor progression.
Besides the classical ER, the G-protein or also known as GPER coupled receptor for estrogen is a major mediator of the rapid cellular effects of this hormone. However, the role of GPER isn't yet elucidated completely. Yet, the progression of all estrogen-related cancer is often promoted by GPER activation.
For the treatment of estrogen-positive breast cancer, proper treatment with the estrogen receptor modulator, tamoxifen is considered standard. Still, it shows that GPER's expression negatively correlates with relapse-free survival when patients with breast cancer are treated with tamoxifen.
Inhibits Id-1 Gene
The crucial problem in breast cancer is the metastasis caused by the Id-1 gene. The primary function of this gene is to initiate cell differentiation to induce cancer cell growth in the breast. The Id-1 gene is only found in these metastatic cancerous cells that develop human embryos.
Post to human birth, this Id-1 gene goes silent and it should stay like this. During the development of the cancerous cells, these genes wake up and push the other cells to behave like embryonic and promote them to grow. Further, they grow rapidly and spreads the cancerous cells in the breast.
As CBD has anti-metastatic properties, it helps to inhibit this gene and prevents the cancerous cells from spreading. CBD also has lower toxicity as compared to other medical treatments available which mean patients might be placed on this for several years.
CBD May Help to Combat Cancer-Related Symptoms
There are data that suggest that cannabinoids are highly useful in preventing chemotherapy-induced treatment for cancer. It also indicates that cannabinoids may impart the anti-tumor activity directly. Therefore, the anecdotal evidence is quite promising regarding the impact of CBD.
In addition, patients are often diagnosed with osteoporosis that manifests due to decreased bone mineral density. This happens due to the endocrine or chemotherapy treatment to prevent cancer. Both these treatment has adverse effects on the bones. However, CBD oil can improve bone health in patients besides reducing the symptoms of other side effects of cancer treatment.
Can CBD Oil Replace ERT?
ERT or also known as estrogen replacement therapy is a type of hormone therapy used by millions of postmenopausal women for controlling the uncomfortable symptoms of menopause such as hot flashes, mood shifts, bone loss, etc. Estrogen-only hormonal therapy holds the potential chances to increase breast cancer, and ovarian cancer and promotes various ailments.
The higher risk of breast cancer from using the ERT for natural hormones is the same as it is for synthetic hormones. Therefore, women who have a history of ovarian cancer, breast cancer, or heart disease tend to avoid ERT therapy and they end up suffering the unpleasant symptoms of menopause. Alternatively, CBD seems to be an optimal option for these women who are unable to take the ERT.
Instead of taking estrogen replacement therapy, cannabidiol may be used to boost endocannabinoid levels and prevent unpleasant symptoms after menopause. CBD interacts with the estrogen receptor and activates the CB2 to prevent discomfort. In addition, another flavonoid found in CBD, named apigenin binds the estrogen receptor-positive and inhibits tumor growth.
CBD has already shown its significance in preventing the growth of the tumor and cancerous cells that are independent of their activity on the cannabinoid receptors and avoid killing any of these healthy breast tissues. Cannabis may also be used as a substitute for non-hormonal prescription medicines that often cause unwanted side effects like sexual dysfunction, gastrointestinal distress, etc.
Here's how CBD offers similar benefits as ERT:
CBD may boost serotonin signaling and further lower the body temperature. This can reduce unwanted hot flashes during menopause.
ERT is used by women to reduce the symptoms of menopause such as the increased amount of LDL cholesterol. The use of CBD may balance the bad and good cholesterol found during menopause.
Topical creams containing CBD may slow the growth of facial hair and reduce skin dryness as a result of menopause.
CBD could also interfere with women's ovulation. Therefore, long-term use of CBD may cause a delay in menopause similar to hormonal birth control.
Reduction in endocannabinoid signaling is responsible primarily for the negative or unpleasant symptoms associated with menopause. As estrogen levels are associated with these endocannabinoid levels, a sudden halt in estrogen production causes all the troubles. CBD may replace ERT therapy and still prevent the symptoms by stimulating the cannabinoid receptors.
10 FAQs About CBD and the Estrogen System
CBD helps to suppress estrogen levels by inhibiting enzymes that make it from testosterone, named aromatase. These aromatase inhibitors reduce estrogen levels in cases of post-menopause and breast cancer. Still, there are several concerns among women using CBD during menopause.
Here are the 10 most frequently asked questions about estrogen and CBD:
1. Can CBD Oil Affect Female Hormones?
CBD is the active ingredient found in cannabis and hemp plants that stimulates the endocannabinoid system. There are two major compounds of the endocannabinoid system that are 2-AG and AEA. They are degraded through hydroxylation by fatty acid amide hydrolase or monoacylglycerol lipase.
The use of CBD could influence hormones such as cortisol, insulin, and melatonin. Therefore, it's cited as the natural treatment for hormonal issues. Hence, it may affect the female hormones.
2. Does CBD Oil Help Regulate Hormones?
Hormonal fluctuation is natural during menstrual, puberty, pregnancy, and menopause. As a result of the fluctuations, women tend to confront predictable and uncomfortable symptoms in their bodies. This hormonal imbalance could also occur due to the endocrine gland's malfunction. Certain health conditions such as tumor growth, Addison's disease, and diabetes may also trigger the imbalance.
The use of CBD products helps to balance the hormones and bring harmony. It's preferred by most women in their menopausal state as they face massive discomfort due to sudden fluctuations of their hormonal levels and halts in estrogen production. Still, the use of CBD may restore harmony.
3. What Drugs Should Not Be Taken With CBD?
CBD products may offer promising relief from a range of ailments such as hot flashes, insomnia, seizures, and chronic pain. However, there is a certain medication that may double the side effects of CBD. It may lead to accidental falls, damage to the liver, dry mouth, and nausea if CBD is taken with OTC or other prescription medication.
In other words, CBD could change with the medication levels in the system while patients are taking prescribed medicine. Taking CBD along with prescription medication that causes sleepiness such as benzodiazepines, opioids, antidepressants, and antipsychotics may increase fatigue, sleepiness, and other issues.
4. How Can I Increase My Estrogen Level?
Women who are in a menopausal state tend to notice a drop in their estrogen levels. It could lead to several discomforts including hot flashes, mood swings, and urinary tract infections. However, there are natural foods to increase estrogen levels such as flax seeds, sesame seeds, vitamins D, and vitamins B, etc.
5. Can CBD Oil Help to Reduce Menstrual Cramps?
CBD may help to reduce unpleasant cramps, anxiety, and nausea. Although, both CBD nor THC don't impact the prostaglandin production that's responsible for the cramps, more research is required to come to a scientific conclusion. Nevertheless, CBD oil may help with pain relief.
6. Can CBD Oil Help with Your Menstrual Cycle?
CBD oil may help with unpleasant period-related discomforts such as cramps, anxiety, or nausea, but it doesn't help with the menstrual cycle. People must consult a doctor before taking this oil to avoid any possible clinical consequences.
7. How Does CBD Oil Help with Hormonal Imbalance?
Hormones are the chemical messengers in the system. The major glands of the endocrine such as the pituitary gland, hypothalamus, adrenal, ovaries, pancreas, and thyroids help to produce these chemicals in microscopic amounts. Hormones are essential for maintaining certain functions in the body.
Nevertheless, the fluctuation of hormones is often seen in women who are in a menopausal state. Their body stops producing hormones in a normal way which leads to weight gain, hot flashes, and other discomforts. The use of CBD oil may help to fix these hormonal imbalances.
8. Does CBD Lower Cortisol Levels?
The present research suggests that CBD oil interferes with cortisol secretion. A study shows that people who took 300 to 600 mg of CBD oil tend to drop their cortisol levels significantly more than those who didn't take the dosage. Thus, it can be analyzed that CBD may act as a sedative and affects cortisol secretion.
9. Is CBD an Inverse Agonist?
Yes, CBD is the inverse agonist of GPR3, GPR12, and GPR6 receptors. It antagonizes the CB1 and CB2 receptors' actions and acts as the inverse agonist and negative modulator of these receptors.
10. What is the Effectiveness of CBD in Weight Loss?
Research showed that CBD helps to convert white fat cells to brown fat cells. It also boosts the body's efficiency in breaking down fats more effectively. Still, more research on humans is required to treat CBD as a promising therapy against obesity.
These are the few concerns women tend to have while using CBD after their menopause. Moreover, it interacts with the endocannabinoid system or CB1 and CB2 receptors to influence overall bodily function.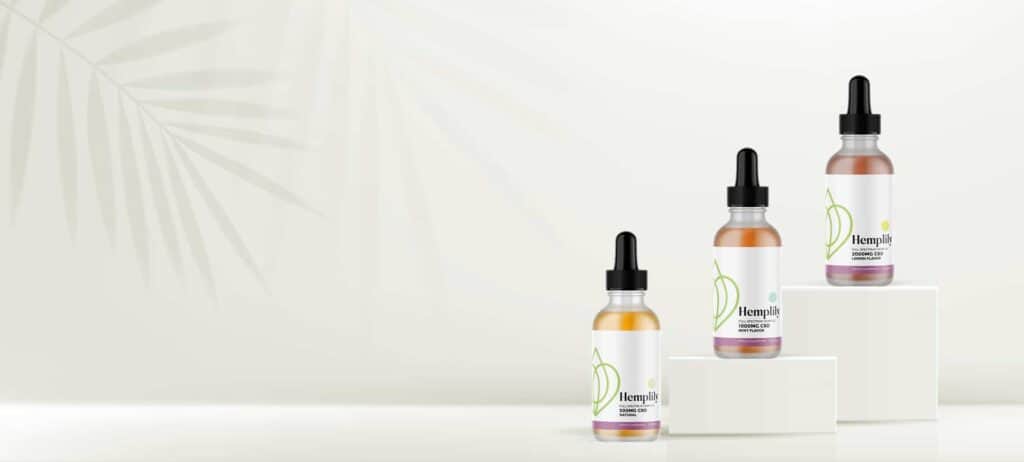 Buying Lab-Tested CBD for Improved Estrogen
Hemplily has been offering lab-tested CBD for improved estrogen and overall hormonal balance to strengthen the immune system and destroy cancerous cells. Our CBD products are made from the finest extraction method that helps to keep the purest form of cannabidiol.
There are several platforms to buy CBD oil or other CBD-infused products. You can either choose offline or online shops as per your preferences. Contact us today by filling out our online contact form for further information. Buy lab-tested CBD-infused products that may improve your hormonal balance at Hemplily.
Want to try a full-size product for FREE?  Learn more at hemplily.com/study-2