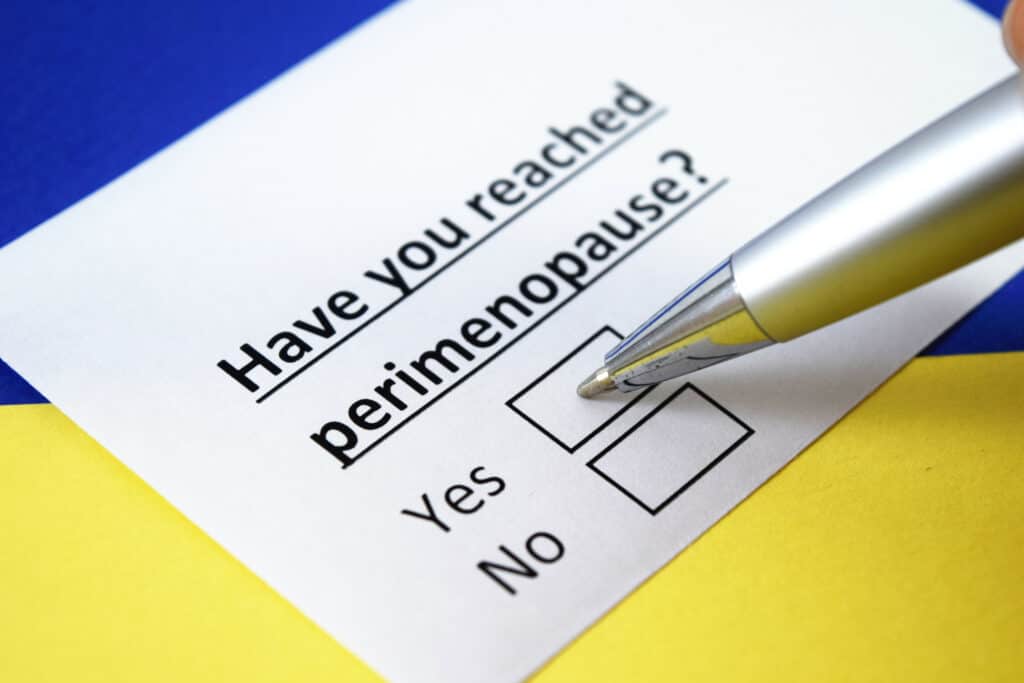 Most ladies know that they will have to deal with the symptoms of menopause once they attain the ages of 40 – 55. What many fail to realize is that menopause is not a one-day event. It does not just happen on a specific day but is a process that happens over years. When some start experiencing symptoms of menopause earlier than they thought they get alarmed.
Perimenopause is a period of transition into and from the menopause stage. This period includes several years before the actual menopause and some years after attaining menopause. During the pre-menopause years, the ovaries start reducing the estrogen levels produced. As a result, the lady starts experiencing some symptoms that may indicate menopause is around the corner.
Perimenopause can start at the early ages of the 30s, affecting the menstrual cycle, and causing other menopause symptoms. Keep on reading to understand fully what perimenopause is and how it manifests.
What is the Average Age for Perimenopause?
Menopause is scientifically expected to start at the ages of 40 to 50. The transition period into menopause (perimenopause) can start much earlier. It is important to note that perimenopause comes with many symptoms similar to menopause.
The transition period lasts 4 to 8 years but maybe longer for some people. For those whose menopause comes early, for instance in the mid-30s, the possibility of having a transition period of eight years exists.
Common Signs of Perimenopause
When entering perimenopause, ladies experience different signs and symptoms. Some of the symptoms may be based on family history, while others may be related to an individual's health personal data. Whichever the situation, the signs help women know when they enter the period leading up to menopause.
Below are the common signs experienced by women in the perimenopause stage:
Night Sweats
The changes experienced in the body due to less estrogen production may lead to night sweats. Over 50% of American women in their perimenopause stages have reported experiencing night sweats according to peer studies. Some suffer to the extent of requiring medical treatment.
Difficulty Sleeping
The other common menopause symptoms witnessed in the early days of perimenopause are sleep disturbances. Several peer-reviewed studies have indicated that people who are in perimenopause may struggle to find sleep and when they do, they can easily be woken up. In some women, the opposite is true.
Cognitive Changes
One of the earliest signs of perimenopausal women is difficulty in remembering things. A person entering menopause suffers from cognitive changes. A person might be unable to remember directions and keeps losing focus and may show vasomotor symptoms. Other diseases such as high blood pressure may also cause cognitive changes.
Vaginal Dryness
Most women feel vaginal dryness even during sexual intercourse as the first perimenopausal symptom. This is mainly caused by the reduction in sexual drive. The hormone changes that lead up to menopause mainly affect vaginal tissue. As a result, a woman's sexual interest may be lowered, or may experience a dry vagina among other symptoms.
Urinary Incontinence
Besides mood swings in the vagina, most women undergoing menopause experience a regular urge to urinate. In most cases, they may feel a burning sensation in the urinary tract being forced to empty the bladder every now and then. The vaginal muscles lack the strength to hold urine much longer and some are likely to let go if they do not release the urine fast enough.
Irregular Periods
The inconsistent menstrual period occurs in all women in the menopausal transition stage. Studies by several academic research institutions show that the most common sign of perimenopause is irregular periods. When perimenopause occurs, the ovaries produce estrogen in the required amounts. This also affects ovulation leading to inconsistent of the next period from the last menstrual period.
Generalized Itching
The changes experienced in estrogen and progesterone production have many effects on the individual in question. Since progesterone levels do not cause itching in any way, they may trigger other medical conditions, leading to skin irritation. Many people have reported feeling itchy all over their bodies when they enter the perimenopause stage due to hormone levels.
Does Perimenopause Make You Hornier?
Many wellness professionals and Healthline media websites have indicated that the period leading up to menopause may lead to increased sex drive. The common explanation is that as a person ages, falling estrogen levels lead to menopause. As a result, a woman experiences an increase in relative levels of testosterone according to tertiary references.
In some cases, it is common for a person to have more sexual desire as they start their menopause journey. But the situation is not the same for all ladies.
What Age Does Hot Flashes Start?
One of the menopause basics is hot flashes also called night sweats. Hot flushes are sudden hot skin and sweat outbreaks commonly associated with perimenopause. What most ladies do not know is that hot flashes happen even before real menopause. Women in their 40s or mid-30s are likely to experience flashes as menopause begins.
Initially, hot flashes are less frequent and a person may only experience the flashes once in several months in the first year. But as they move close to menopause, the frequency at which hot flashes occur starts to increase.
Can I Start Menopause at 35?
Most women begin their menopause in the ages of 45 to 55, but there are situations where women begin their menopause as early as 53. In the United States, for instance, the average woman starts her menopause at the age of 51. This situation is not replicated in other geographic locations in the world. For instance, in most parts of Eastern India, the average menopause age is 46 years.
While a person can start menopause at the age of 35, it is possible to avoid the situation by going for hormone therapy. The earliest menopause symptoms are all related to hormonal changes. Signs such as mood swings and abnormal bleeding can offer a clue and help a person seek intervention in advance.
Can You Lose Weight During Perimenopause?
Women trying to lose weight during perimenopause will struggle since it is at this stage that most women gain weight. In most cases, weight gain begins about a decade to menopause itself. While it is possible to maintain a healthy body weight in perimenopause, losing significant amounts of weight is not easy.
These are foods that can be used by those who wish to lose weight. For instance, spicy foods with strict sourcing guidelines may be helpful to some who wish to lose weight.
Can a Woman Have an Orgasm After Menopause?
Yes, it is possible for a woman to experience orgasms during and after menopause. While it is possible to experience orgasm, women notice a reduction in sexual desire and less intensity in orgasm. During menopause and years after, blood flow to the pelvic region is reduced. As a result, women find it difficult to experience an intense orgasm.
Many women enjoy sex after menopause without a problem. There are some who even have more desire and more sex drive in their perimenopause years. The problem comes in when a woman used too many birth control placements such as a vaginal coil. Such placement may affect sexual desire in later years.
The Symptoms of Early Menopause
Perimenopause is not the same as premature menopause. Most people tend to confuse the two situations. A person in perimenopause is in a state that prepares them mentally. Unfortunately, if you experience early menopause you will also have to experience early perimenopause. The early signs can help an individual prepare psychologically or seek medical help.
Since it is possible to self-diagnose, it is important to invest in personal data use to check for symptoms of menopause.
Symptoms of early perimenopause:
Changes in the menstrual cycle: This is the first symptom to look for or any person suspecting that they may be getting early menopause. This is because changes in menstruation happen due to the slightest change in hormones.
Irregular bleeding: The second most important sign to look out for is erratic bleeding. In some people, perimenopause may lead to autoimmune diseases that may lead to bleeding. If menopause symptoms are spotted at an early stage than expected, it's vital to seek trustworthy health information.
Hot flushes: The other common symptom of menopause is hot flashes. While it is common for people to suffer hot flashes due to other conditions, repeated occurrences should sound an alarm.
Sleep disturbance: Lastly, sleep irregularities occur during the very early stages of perimenopause. If a person starts experiencing these at an early age of 35 or below, it should be a sign that menopause is just around the corner.
Since each of the above symptoms can occur in a person who is not heading to menopause, when they are combined they are a clear indicator that menopause is just around the corner. Before taking any actions, seek help from a medical facility know to provide medical advice with credibility and legitimate business interest.
How Can I Stop Menopause?
Because menopause can occur to many people, there are steps that a person can take in the early years to prevent it. Many women who undergo early perimenopause usually trigger the situation by their lifestyle. In other cases, the situation is caused by family history or past medical treatments.
Ways to prevent menopause:
Eat plenty of foods loaded with Vitamin D and calcium
Maintain a healthy weight by using healthy foods that follow the right product development ensuring security for users
Eat plenty of foods and vegetables
Consume foods that are high in phytoestrogens
Drink plenty of water
Reduction in sex hormones can affect any person who does not take care of their health. It's vital to eat well and exercise to avoid suffering from perimenopausal symptoms.
Reading Early Signs of Perimenopause
In summary, perimenopause is not a disease as many people think. It is just a phase that a woman must go through. Since there are many symptoms that are associated with the stage, they are just indicators that the stage is passing away.
There are those who wish to get medication to help in managing the symptoms, others prefer natural products with fewer long-term risks. 

Want to try a full size product for FREE?  Learn more at hemplily.com/study-2