Menopause is a natural cycle that marks the end of menstruation and (mostly) the ability to have children. Symptoms can vary but often include mood changes, insomnia, hot flashes, night sweats, and changes in the sex drive. Prescription medications can help, but so can vitamins, supplements, and other over-the-counter (OTC) treatments. Due to this extensive selection, choosing the right items can be quite a task. To narrow the field, here are eight of the top supplements to help with the symptoms of menopause.
These items were selected based on ingredients, quality, price, and customer reviews. As for price, each supplement ranges from $0.32-$2.93 per serving, with serving sizes at 1-2 capsules a day and one supplement calling for four capsules per day. To offer a quick pricing guide:
$=less than $0.50 per serving
$$=up to $1.50 per serving
$$$=up to $2.00 per serving
$$$$=over $2.00 per serving
Related Link: How to Balance Hormones
The Top Choice
The best menopause supplement is awarded to Thorne Meta-Balance ($$). Two capsules per day provide a traditional herbal blend that balances hormones and can help to ease menopause symptoms. Ingredients include French pine bark extract, black cohosh, wild yam root, and chasteberry. This supplement is allergen sensitive as it does not contain soy, dairy, gluten, or artificial flavors.
Help for Hot Flashes
Fan Club ($$) is a customer-favorite supplement that offers long-lasting help with hot flashes. Its star ingredient is Siberian rhubarb which has been demonstrated to reduce menopause signs by 67% after three months. Fan Club also features the probiotic Lactobacillus Plantarum which can help with mood. The serving size is one capsule per day, and the supplement does not contain gluten, soy, or GMOs.
This category was a toss-up between Fan Club & NOW Menopause Support ($). Specifically designed to support the female endocrine system, NOW supplements are well known for their high quality that delivers some serious bang for the buck. The serving size is three capsules per day, and this supplement is powered by chasteberry, black cohosh, and red clover. It does not contain eggs, nuts, dairy, or gluten and is suitable for vegetarians.
Are you looking for a natural treatment for menopause symptoms? This could be your answer.
Break the Night Sweats
Specifically designed to help with hot flashes and night sweats, Natural Factors Women Sense MenoSense ($) contains black cohosh, chasteberry, and dong quai extract, a Chinese herb traditionally used to ease menstrual and menopause symptoms. The serving size for this supplement is two capsules per day, and in addition to being very cost-effective, this product is soy-free, gluten-free, and suitable for vegans.
Hormone Balance
F you need help with out-of-balance hormones, look no further than Smoky Mountain DIM 220 with BioPerine ($). Just one capsule a day offers a budget-friendly formula containing diindolylmethane. This compound is present in multiple vegetables and can help to regulate estrogen metabolism when hormones are all over the place. The BipPerine, or black pepper extract, helps to increase the absorption of active ingredients. This supplement is non-GMO, gluten-free, and vegan.
Related Link: CBD Oil & Estrogen
An Optimal Multivitamin for Menopause
A multivitamin is a must for general well-being, but New Chapter One Daily Every Woman's Multivitamin 40+ ($$) helps with changing nutrient requirements. In addition to providing necessary vitamins & minerals, this supplement features an organic vegetable & herbal blend which helps with stress reduction, healthy digestion, and balancing hormones. This supplement is gluten-free, does not have artificial colors, and is certified organic. It is an easy dose of one tablet per day, and this formula is designed for maximized absorption.
Combat Hair Loss
Changing hormone levels during menopause can result in hair loss. Nutrafol Women's Balance ($$$$) claims to help with this problem plus reducing stress levels and improving sleep. This Allure Breakthrough Award winner demonstrated significantly improved hair growth after six months while balancing hormone levels with crucial ingredients such as ashwagandha and maca root. This supplement is dairy and gluten-free but not vegetarian-friendly. It is also expensive, and the dosage is four capsules per day.
For a Good Mood
For relief from hot flashes and better emotional well-being, consider the Pure Encapsulations MenoVive 60's($$$). This supplement contains adaptogens, compounds that improve how the body handles stress. These ingredients include hops, Rhodiola, and ashwagandha, all of which have been studied to relieve stress and elevate mood. After Nurtafol, this is the most expensive supplement on the list, with a dose of two capsules per day. This product is gluten-free and vegan.
Related Link: CBD for Hot Flashes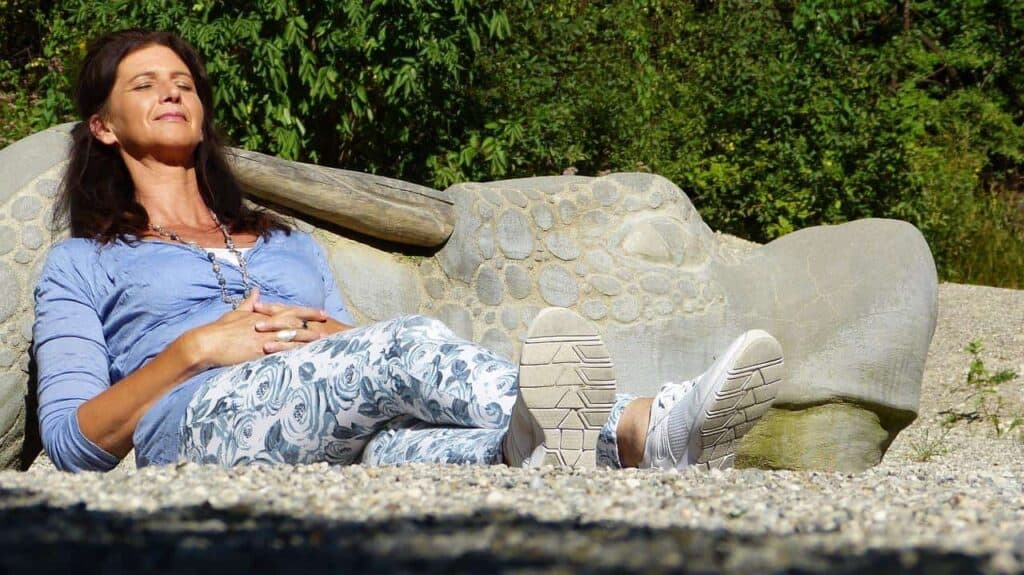 Breaking Down the Ingredients
As many of these supplements have the same active ingredients, it is worth taking a closer look at these plant-powered remedies and their effects on the human body. Many of the herbs found in these products have been used for a very long time, and there is a good reason for this. Black cohosh is a member of the buttercup family native to North America. It is used to balance estrogen, and a study performed in 2010 concluded that women going through menopause had a 26% reduction in hot flashes and night sweats when taking black cohosh. Chasteberry is a fruit native to the Mediterranean and parts of Asia. It signals the pituitary gland to produce a hormone that generates increased progesterone. In addition to easing menopause symptoms, chasteberry is also used to treat premenstrual discomfort. Ashwagandha is a shrub found in Africa and Asia. Traditionally used as an adaptogen, it is suggested to help relieve mental and physical stress plus serve as a mood booster.
Do you feel hormonal more than usual and sweating more at night? See if any of these other symptoms look familiar.
Personalized Choices
While menopause does have commonalities, different women have different experiences during this life change. While some pull through quite easily and quickly, it can be a lengthy and miserable process for others. While herbal supplements can help, there are times when a woman needs to seek medical attention if she cannot cope with her symptoms.
If a prescription is necessary, be sure to talk to your provider about any over OTC supplements you are taking to ensure no interactions. After all, the goal is to find some relief rather than make things worse. And no matter how tough your menopause stage is, remember it is temporary, and you will get through it.